Send your food packaging to the experts
So you can focus on your business objectives—what matters to you and your bottom line. Meanwhile, Econo-Pak will keep up with your product demand with:
Fixed pricing
24-hour operations
1000+ employees
Daily production updates
200+ machines
SQF Level 3, FDA Approved, among other certifications
And more
If you're looking to grow your small food business, or have a new product that you ready to launch internationally, then enter your information in the form. We'll get in touch for more details to get you an accurate quote for your project.
Wrap it, stack it, flavor it
Econo-Pak can do it all for you.
We are one of the largest contract packaging ​companies in the U.S. with 40 years of experience in food packaging, repackaging, and contract manufacturing.
With a 240,000-square-foot temperature-controlled facility, you can trust that your product will maintain its quality and integrity.
We are set up to handle any large quantities you may need to be packaged.
We specialize in dry food products
From cookies to spices to protein powders and more, we focus on dry food products.
From cookies to spices to protein powders and more, we focus on dry food products.
What's the benefit of your co-packer only focusing on food?
You never have to worry about your product being affected by other non-food products, like fragrances.

And you have the reassurance of knowing that our expertise lies in your product line.
Pick from a wide range of packaging options
Econo-Pak has over 200 machines to package your product the way you want it.
Here are just a few packaging options you can choose from:
VFFS

Bagging

Pillow pouch

Flow wrapping

Overwrapping

Stand up pouches

Pre-made and roll stock

Cartons glued, taped, and tabbed

Bag in a bag

Box in a bag

Variety packs

And so much more
If we don't have what you need, let us know. Depending on your volume and project length, we can invest in machinery to get what you need.
Why work with Econo-Pak?
Lots of reasons.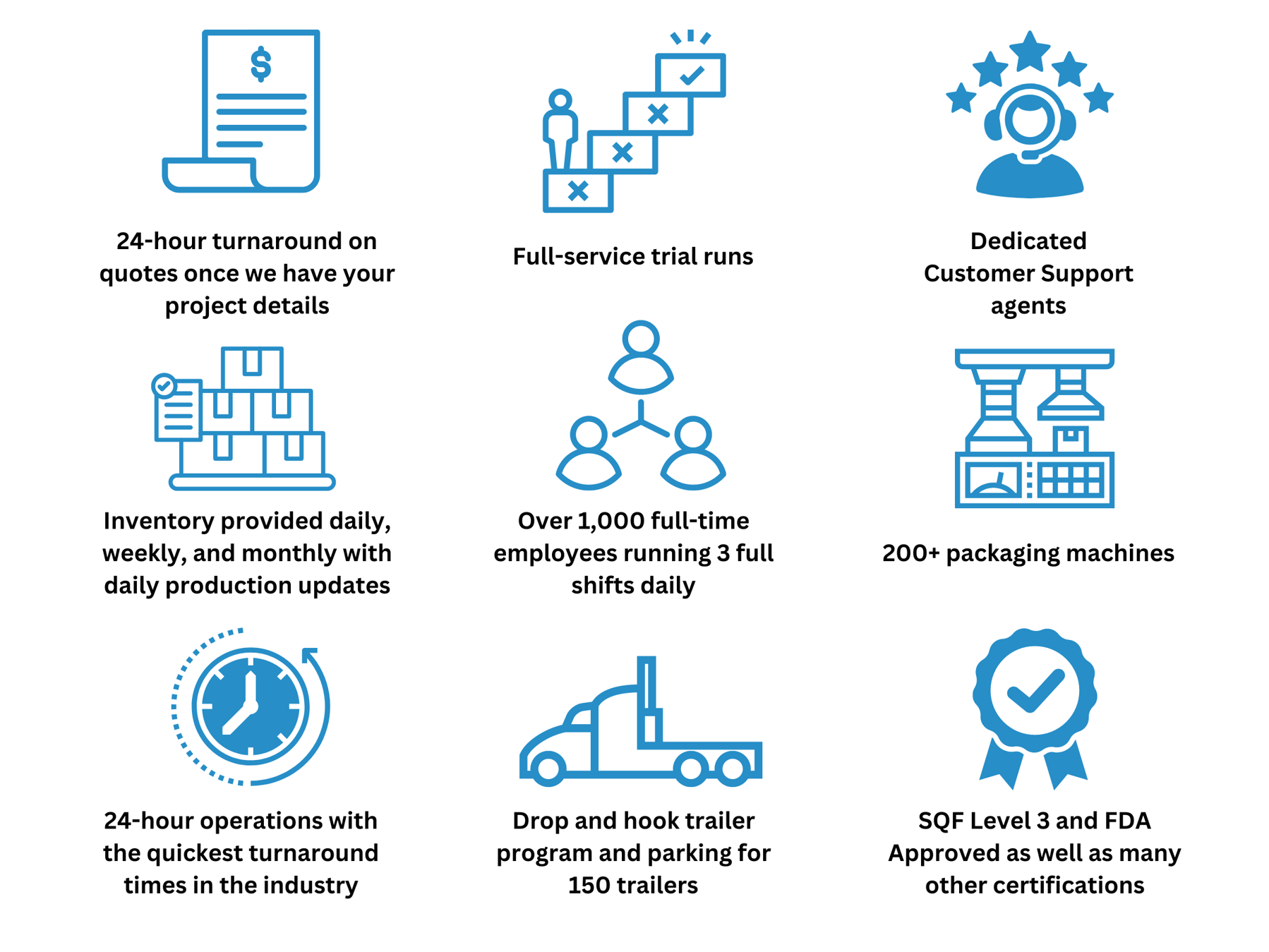 Interested in our pricing? We work on a fixed-cost model so you can know exactly what you're spending for months to come.
To get a quote, start by filling out the form above and we'll get in touch fast.